16
« on: December 22, 2018, 12:47:50 »
Hello!
During my last cycle-rides I discovered that the displayed map zooms out automatically without doing anything. Is there any I have to do? Some wrong settings maybe?
I never had this problem before...
just to imagine, see screenshots: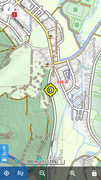 .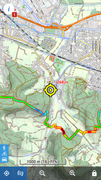 (yellow circle shows actual position)
GPS is on, display/ position set to be in the middle. This "Zoom out" happens when moving.
Thank you very much for your help!